Ha, this post seemed forever to come by but I just felt like it is the right time with the recent eruption of Mt Merapi. This trip was way back in July 2009 booked with Indonesia Journey. The package included the Merapi climb, Borobudor temple, Prambanan temple and free easy tour around Yogjakarta.
Day 1 - Arriving from KL, we were greeted at the Adisutjipto airport by our friendly guides Yoga and Kido. We were whisked away to dinner and quickly settle down at the Delta Homestay.
Day 2 - The next day, our tour begins at the
Merapi National Park
. Arriving early before other tourists, we made our way to the 3-storey platform tower where there are plenty of photo opportunities of Mt Merapi. It was just a 15 minute hike to the platform tower and couldn't even serve as a warm-up to our more challenging climb tomorrow.
Platform Tower at Merapi National Park
Soon after, we made our journey to
Ketep Pass
, a museum and educational centre of Mt Merapi. There is a volcano theater here where you will be treated to a 15 minute clip on the history and origins of Mt Merapi. Again there are plenty of photo opportunities here overlooking the mountain.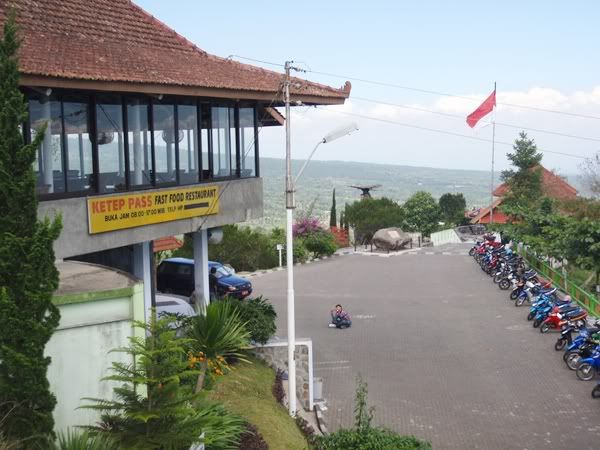 View at Ketep Pass
After having lunch at the restaurant we proceed to the village of
Selo
. The weather at Selo was nice and cooling as the elevation was already quite high. We settled at the Bungalow Tersenyum or smiling bungalow. Fortunately it was equipped with a hot shower as the temperatures were getting lower come dusk. The climb was to start in the early morning at 2am so after having a satisfying dinner at the nearby stalls, we promptly called it a day. See my other post on
Merapi Summit
.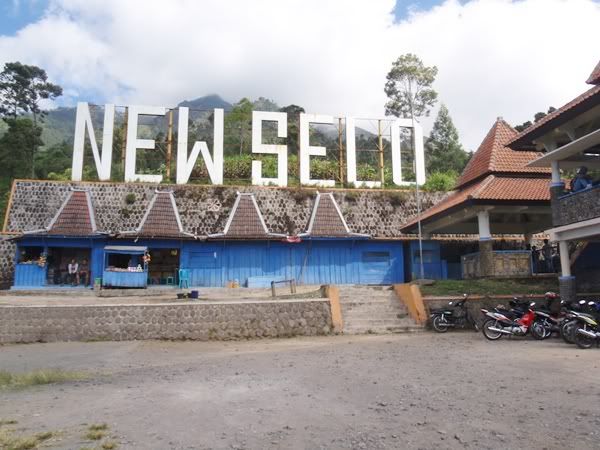 New Selo - Starting point of climb
Day 3 - The summit of Merapi (refer to my back post). After the successful climb, we gather back at the lodge and took our time to have a refreshing shower. The next grueling journey would take us to Borobudur where we reside at the
Manohara resort
just next to it. It was a complete makeover of the lodge we were staying the day before. With 4-star facilities and a comfortable bed, its all we ask for after the Merapi summit. I could have spent another night there if not for our packed schedule.
View at Garden of Manohara Princess Resort
Watching the sunrise at
Borobudur
is a unique experience not to be missed. At dawn and armed with a complimentary torch light from the resort, we made our way to Candi Borobudur which is just a short distance's walk away. You can feel the crowd growing and photographers jostling for the best spots as the time nears. It's just a magical occasion witnessing the sun rise over the horizon and every corner and angle of the Borobudur just seems so pleasing to the camera. After countless photos, we made our way back to the resort and have our breakfast, buffet-style. This was really an unforgettable experience.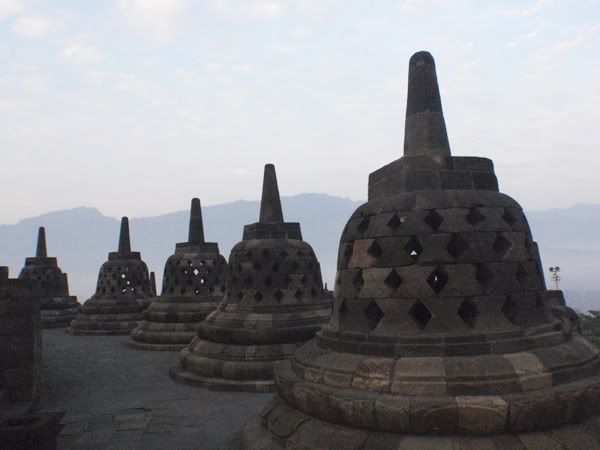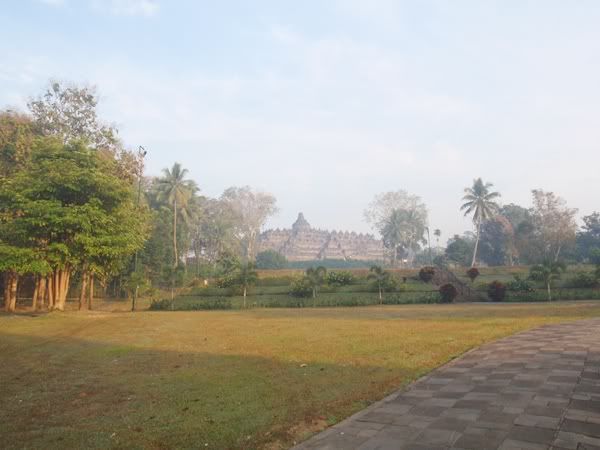 And that's not it for Day 3, we made our way to
Dieng Plateau
a mountain range few hours drive away. There we visited the Sikidang crater, Candi Arjuna, Telaga Warna and manage to witness a live pigeon race. The Telaga Well meaning colored well is known as such because of its green-colored lake. Just at this moment, the unthinkable happen. My camera battery ran flat and it was so unfortunate that I was without the spare battery either. Too bad but it's not all doom after all as there are still plenty of cameras from my group snapping around. The frigid weather did not allow us to stay longer than we wanted and we made our way to other attractions around the area. The smell of sulphur at Sikidang crater reminds me of the time at Mt Sibayak. It just smells like the stink bombs we used to play as kids.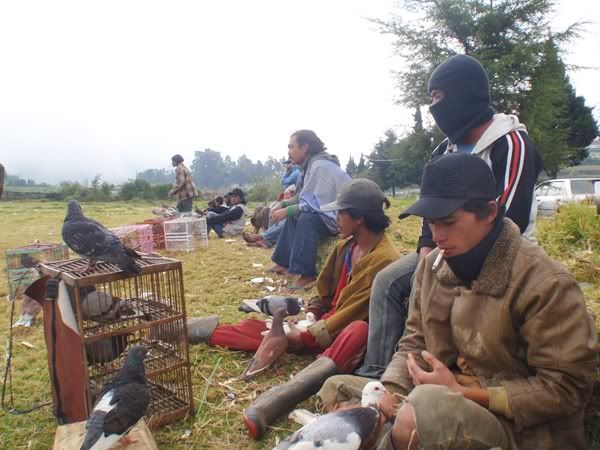 Preparing for bird race at Dieng Plateau
Candi Arjuna
Hot Spring at Skidang Crater
Day 4 - A visit to the
Prambanan temple
is a must while we're here. A Unesco World Heritage Site, this ninth century Hindu temple looks simply stunning amidst the clear blue sky. There was some restoration work going on due to the earthquake which brought down parts of the structure as well. But that didn't prevent us from leaving in awe at this amazing temple structure.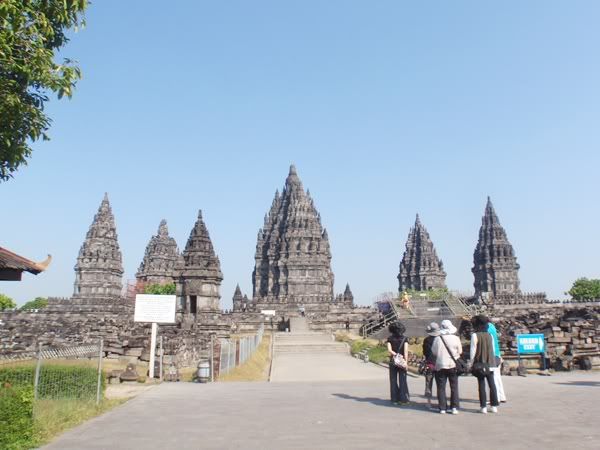 With time to spare, our guides suggested us to visit other notable places, namely the
Parangtritis beach
and
Kraton Ratu Boko
which is a few hours drive away.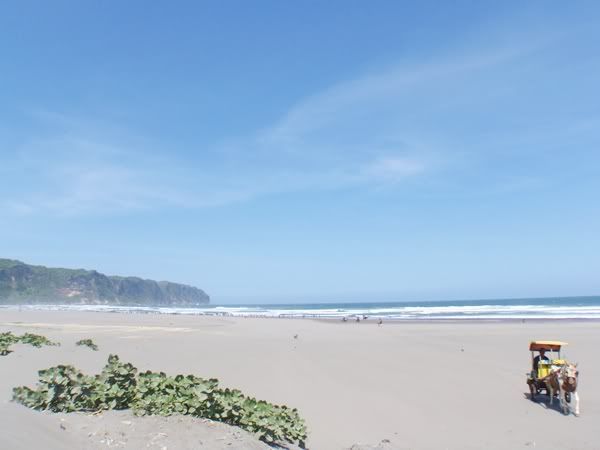 Parangtritis Beach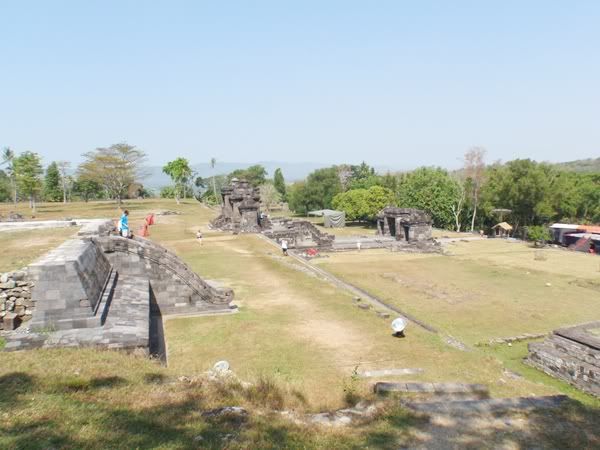 Kraton Ratu Boko
After basking in the sun for the whole day, we returned to Jogjakarta for a tour of the city.
Jalan Malioboro
is the famous high-street here with plenty of happenings, road-side stalls and the Matahari shopping mall within the vicinity. Don't miss the soto sapi a famous delicacy here. There's a place just opposite the Ibis hotel. Try it.
Posing in front of Jalan Malioboro road sign
Day 5 - Departure. I want to thank Boon and
Indonesia Journey
for organizing such a memorable trip. Looking forward to the next adventure.
See my post on
Jogjakarta Delicacy and Street Food